The Cafe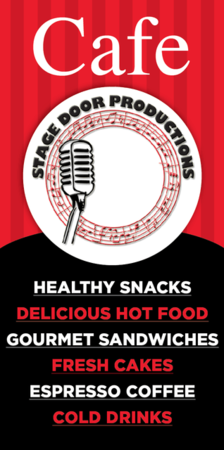 Click here for the "Yum Scrum" Stagedoor Cafe menu
Three or four hours is a long time to be pumping out creative energy in a studio, and let's face it - you've rehearsed for this thirst! Walk out of your studio door and into the trendy Stagedoor Café. Leave the instruments behind and turn mosh into nosh.
We are proud to have the finest in the café business serving our clients. Imas & Renee have years of café and catering experience and can hit the spot in a rumbling musical tummy.
We open for breakfast, hit high noon with some fantastic lunch specials and then take you through the evening with our hot or cold tasty treats. Please preorder to ensure your food is ready and waiting for you on time.
Sample one of our many sandwiches and wraps, prepared fresh, packed with all your favourite fillings. We have so much between our buns, so why not tuck into a Stage Door "Full House" Burger, bacon & egg roll, chicken schnitzels or fresh salad & tuna.. For a true Italian-style café feel, take a seat and be waited upon by one of our audio / café connoisseurs as you choose from a wide variety of beverages, coffees, teas and milkshakes. Contentment breeds creativity, so satisfy your creative juices whilst sampling our range of juices.
So relax, refresh, rejuvenate, then return to your studio and write a hit!